The border is finally open and many regular visitors will be landing in Cayman for the first time in almost two years! Things have changed in the foodie world since the pandemic: some restaurants closed and many others opened their doors. Will the visitors find Cayman to still be the Culinary Capital of the Caribbean?- We think so! Our friend the @caymanislandsfoodie wrote this article showcasing some new restaurants to put on your Cayman foodie map when you visit: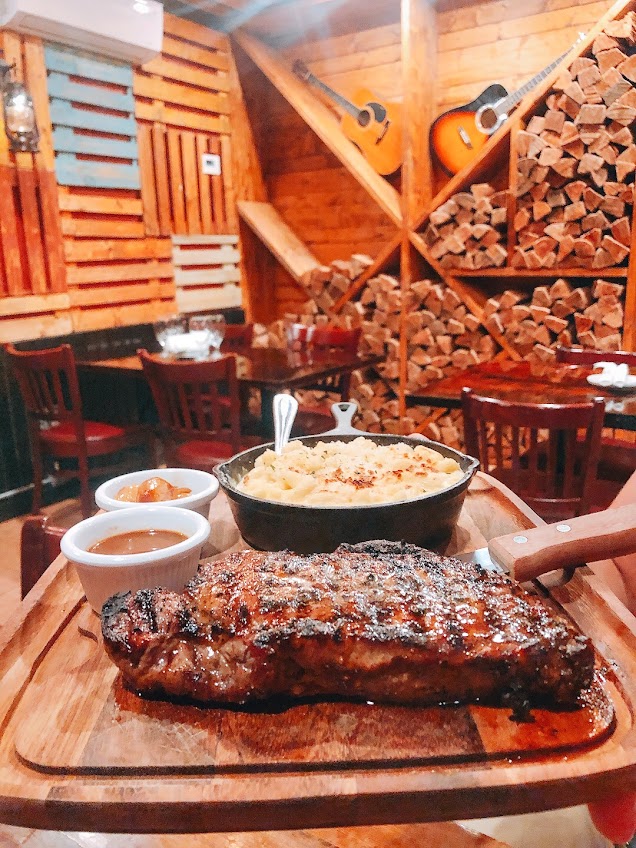 THE spot for all your NFL games, NASCAR races and all kinds of sports+beers+friends kinda events! Lloyd's is great for meat lovers, but also has delicious pescatarian dishes and the best comfort food sides. Located in place of former Eduardo's, it quickly became a favorite amongst the residents, so check them out for the extensive happy hour, a sports game or a boozy brunch.

Everyone loves the East End Tukka, but now they have a second location in West Bay. Tukka West occupies the space of the former Catch (which unfortunately closed its doors for good). A beautiful location by the water with cool breezes, popular for an extensive menu and kangaroo(!) burgers. We love to go with the classics when dining at Tukka and opt for a prawn brochette, flatbread pizza and the amazing tuna sashimi tacos.

Nested in the new Hampton by Hilton hotel, Ms. Piper's is a gorgeous spot for afternoon drinks by the pool, healthy lunch or an Instagrammable girl's day! Head chef Damian Manfre hails from Argentina, so you can find a lot of unique items on the menu, such as wood fired empanadas and Argentinean grill Wednesday specials. Our personal favorite is Dulce de Leche Caramelized crepe.

New hot spot in Camana Bay for a classic steak, beautiful drinks and a jazzy atmosphere. Think Gin&Jazz Thursdays with live jazz performances. Union has a pre-fix lunch menu as well, which makes it perfect for business meetings and friendly lunches!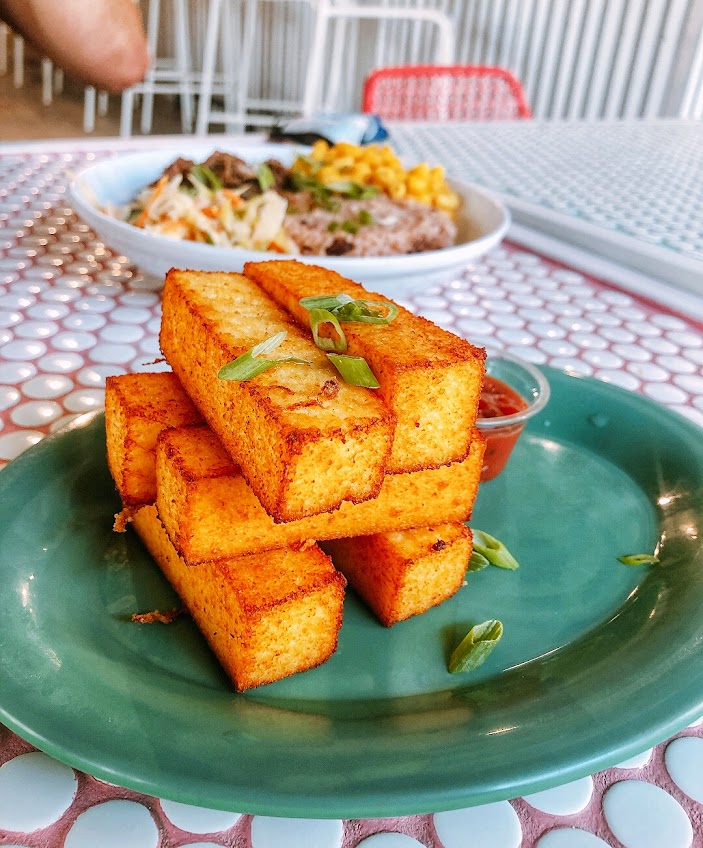 Another new addition to the Camana Bay foodie scene, TomFoodery is a laid-back, 'Local-ish' spot. Here you can grab a Cayman Style Beef and a no-fuss Frosé and chill under their indoor sea grape tree, made by local artists (3 Girls and a Kiln). TomFoodery is known for using local products and supporting the community, so we love supporting them! They also have a great catering team, so if you want a conch stew catered to the entire family- these are the guys to contact.

The Diner
This small and casual spot in West Bay may not have an ocean view or a luxurious driveway, but what they do have is amazing local food that is bursting in flavor, CaymanKind service and the best reggae playlist. One of our favorite new spots replaced the former West Bay Diner and is located by the West Bay four-way stop. The Diner serves coffee all day (yes,proper latte style!) and delicious homemade goodies made by the lovely owner. Try their catch of the day with breadfruit fries (the best!) and mac&cheese. Then finish the meal with an iced caramel latte and a brownie. Calories don't count when you are on vacation.
Seven Mile Greens
The salad+sandwich deli in Governor's Square is located right across from sister restaurant Seven Mile Burger. Want to eat healthy?- Head to Seven Mile Greens on the left. Treat yourself?- Seven Mile Burger on the right. Both spots are reasonably priced, casual, quick and make for a great "take-me-to-the-beach" lunch.

A sleek food truck across from Cost-U-Less serves all kinds of arepas, for carnivores and vegans alike. Quick, tasty and the packaging is simply gorgeous. The favourite is the Pabellon Arepa, which is a Venezualean National dish!

Pirate's Grill
Started as a food boat and now is a cute yellow building on the waterfront that offers an ultimate comfort food take-out. Think Conch Burger and Lobster Mac&Cheese. Try their Pirate's Delight for the ultimate seafood goodness.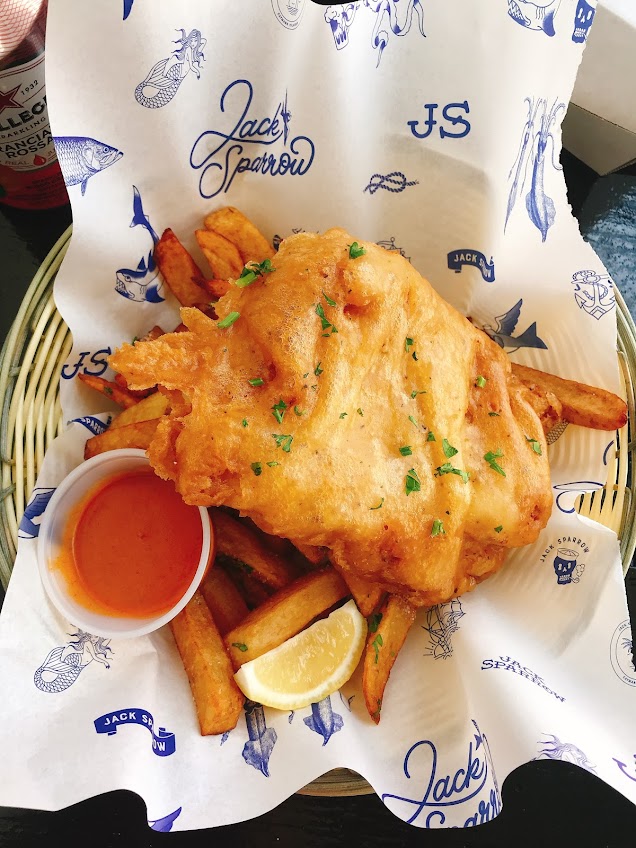 A Fish & Chips joint just below the lovely Southwest Collective. They do proper fish & chips and serve cold local beers. There is 'Happy Fish' on the menu, which is battered banana blossom- great alternative for those that don't eat seafood!

New Italian spot in Camana Bay, run by an Italian family who make authentic pasta and bread from scratch. You can purchase fettuccine and alfredo sauce to make at home or dine-in and enjoy a pizza night or a cheeky tiramisu. Added bonus- fresh croissants and you choose your own filling!
A butchers shop with a lunch menu, the Carnivore opened just six weeks before the pandemic. Here you can purchase premium meats for your grilling needs or pop in for a quick steak sandwich.
The former Margaritaville hotel is now under new ownership and the restaurants in the building changed too. In place of Eating House 1503, we now have the colorful Back-a-Yard with local and Jamaican cuisine. Bammy benedicts are definitely on our to-try radar!
Next Door
Cocktail bar in Camana Bay, from the creators of Agua restaurant. This means- best bartenders and great vibes! Live music events are also happening so check their schedule!

Bento & Lets Eat & Island Grub
Last but not least we need to mention a huge change to the island's meal delivery services! We now have 3 main companies that will deliver lunch, dinner or breakfast from almost any restaurant on the island! Each delivery service has an app where you can pick your food, py online and track the delivery! This is especially convenient for those visitors that don't like to waste any of their beach time on a food hunt! Locals love the deliveries because it helps us spend more time eating and less in traffic- win win!
We hope visitors and locals alike enjoy these new additions to the Cayman foodie scene! For any advice on the new or good-old-favorite restaurants, don't hesitate to reach out and follow @caymanIslandsfoodie and @goodeats.ky We love talking about food because food is our language!