Its official, we're now in the middle of January and we're just getting over the holiday season. Many of us have left our old habits in 2021 and replaced them with the new. One of the most popular new year resolutions is to become a healthier version of oneself.
So, for those seeking to up their nutritional game without losing great flavours, keep reading. Ditch fast-food chains and unhealthy eating habits to explore the most mouth-watering, jaw-droppingly colorful, satisfyingly crunchy salads here on island!
Of course, the obvious places to grab a salad or a healthy meal include: Island Naturals, Brussel Sprouts and Smoothie Factory. However, if you're looking for great, unorthodox places to grab a fresh salad here are some additional suggestions that one may unintentionally overlook.
Location Overview: The Sunshine Grill is located at the Sunshine Suites Resort. They offer signature drinks and award-winning food at affordable prices. Although this restaurant is famous for its massive burgers, they also offer a great selection of flavourful salads. The Sunshine Grill has been deemed the epitome of casual world-class dining.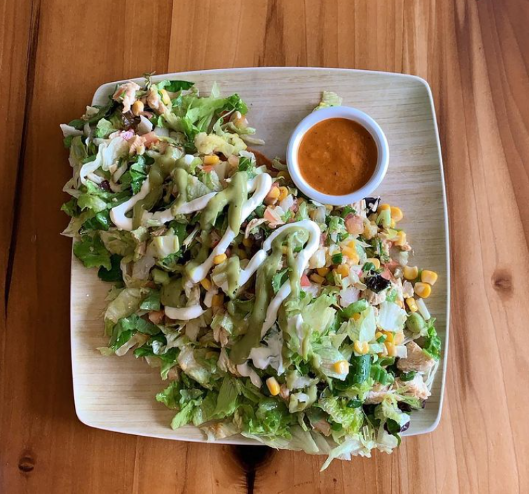 Reccomended Salad: Tostada Chicken Salad
Taste: An eclectic mix of baby greens and iceberg lettuce with crispy corn tortilla, black beans, mango dressing, roasted chicken, tomatoes, chopped onions, and grilled corn with sour cream and avocado sauce make Tostada Chicken salad an absolute flavor bomb!
Atmosphere: Tropical, casual, open-air setting. Perfect for romantic and casual dinner dates. Also, perfectly suitable for families! Ultimate island vibes.
Cost: $13
Recommended Alternatives: Cayman Summer Salad, Asian Chicken Salad, Caesar salad, and Chopped Salad
Location Overview: Originally opened as a bar, The Bird offers good food with a range of accompanying drinks.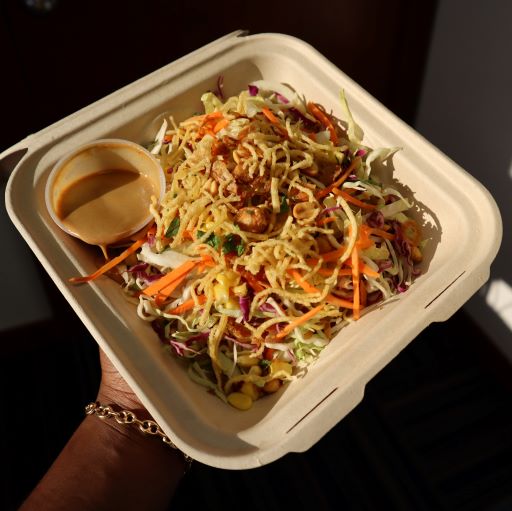 Recommended Salad: Thai Crunch Salad (Editor's Pick)
Taste: Light and intensely flavored delicious mix of cabbage, fresh lettuce, crunchy carrots, nutritious peanuts, ramen croutons, crispy wontons, sweet corn, cilantro, fresh mint, and basil in a Thai peanut dressing—super delicious, crunchy, and filling!
Pro Tip: If you want to add some protein, go for the "Steak on A Stick" add-on. It's divine!
Atmosphere: Casual and relaxed vibe.
Cost: $10
Alternatives: Shredded Brussel Sprout and Kale Salad and Greek Salad with Yaya's dressing.
Location Overview: The Cayman Cabana sources fresh produce from local farmers, fishermen, and artisans to provide an authentic Cayman Island experience to their customers. Located in the heart of George Town, on the beautiful waterfront, Cayman Cabana specializes in providing "farm-to-table" local food.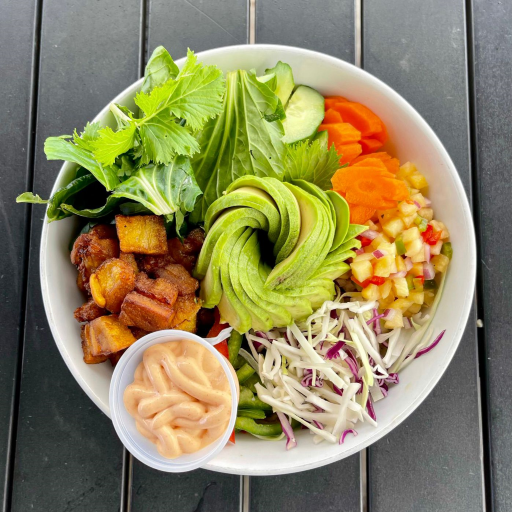 Recommended Salad: Ital Buddha Bowl
Taste: Made with callaloo rice, breadkind, carrot noodles, avocado, cucumber, and cabbage with sesame dressing, the Ital Buddha Bowl is a filling bowl of exquisite, delicious goodness.
Atmosphere: Dining on a multi-tiered oceanside deck surrounded by water on 3 sides offers an authentic and vibrant local atmosphere.
Cost: $17
Alternatives: Local market salad with choice of protein—fish, chicken, or shrimp, and lobster tail.
Location Overview: A bespoke butcher shop with an unpretentious vibe, Carnivore aims to connect people through food.
Recommended Salad: Tex Mex Salad
Taste: Prime shaved sirloin with peppery arugula, peppers, sweet caramelized onions, corn salsa, juicy cherry tomatoes, crunchy radish, sweet lime crema, and honey chipotle dressing leaves you craving for seconds.
Atmosphere: Elegantly subversive, contemporarily stylish.
Cost: $17
Alternatives: Check out their Asian Short Rib Salad, Mediterranean Chicken Salad, Kale Caesar Salad, and Garden Salad.
Location Overview: Cayman's only Urban Agaveria, Agave specializes in authentic Mexican cuisine.
Recommended Salad: Ensalada Tequila Shrimp & Avocado
Taste: Shrimps glazed with Tequila Ocho Plata paired with fresh, juicy organic tomatoes and onions, peppers, and mixed greens give Ensalada Tequila Shrimp and Avocado an enhanced flavorful appeal.
Atmosphere: Secluded setting paired with a relaxed vibe.
Cost: $18
Alternatives: Ceviche, Chilaquiles, Keto Bowl Vida Sana.
Location Overview: Enjoy Mexican street food, refreshing beverage and amazing views of Cayman's world famous Seven Mile Beach. Looking for a perfect place to watch the sunset? Dining waterfront at Coccoloba restaurant is a highly recommended option.
Recommended Salad: Roasted Cauliflower Salad
Taste: Made with chickpeas, nutritional avocado, arugula red onion in perfectly-balanced citrus dressing make the Roasted Cauliflower Salad a tempting pick for not just the health-conscious 12.
Atmosphere: Refreshing and relaxing ambiance.
Cost: $16
Alternatives: Scrumptious Wilted Kale Salad and Quinoa (highly recommend).
Location Overview: Dine-in style at both family-friendly Eats & Legendz Restaurants while you watch your favorite sports games in HD.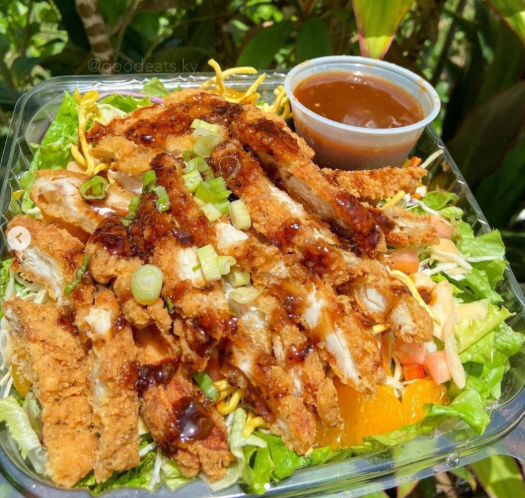 Recommended Salad: Crispy Asian Chicken Salad
Taste: A garden salad topped with lightly fried teriyaki'd chicken breast, mild scallions, palatable red and green peppers, sweet mandarin oranges, sliced almonds, crispy noodles, and sesame Asian dressing to give it an incredibly mouth-watering flavour.
Atmosphere: Casual, laid-back ambiance.
Cost: $12.95
Alternatives: An impressive range of flavorful salads like Harvest Salad w/Dried Berries and Nuts, and Fajita Chicken Salad.
Location Overview: Located at the Ritz Carlton and named after the silvery reef fish that calls offshore home, Bar Jack serves top-tier Caribbean favorites and cocktails.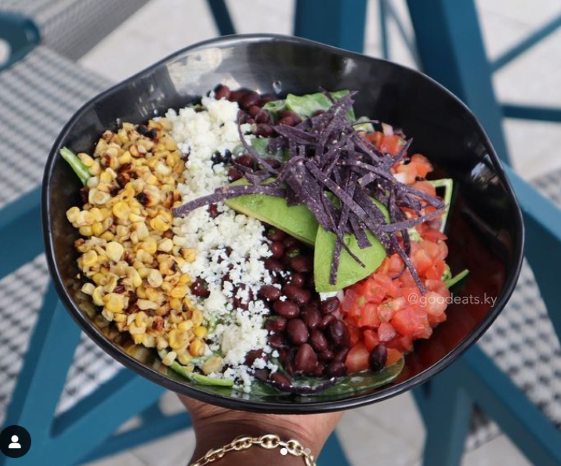 Recommended Salad: - W.O.C. (West of Cayman) Bowl
Taste: Fresh baby greens, grilled corn, Pico de Gallo, nutritious black beans, Queso Fresco avocado, and crispy tortilla strips with chipotle ranch dressing make the W. O. C bowl a feast for the senses.
Atmosphere: Casual, alfresco atmosphere.
Cost: $15
Alternatives: Salad choices include Bar Jack Greens, Kale Caesar Salad.
Location Overview: Located on the Seven Mile Strip, Pepper's serves up Caribbean dishes that are sure to keep you coming back for more. A local favourite, Pepper's is a casual, island-style spot offering live music, great food, and good cocktails. Famous for their BBQ ribs and jerk chicken.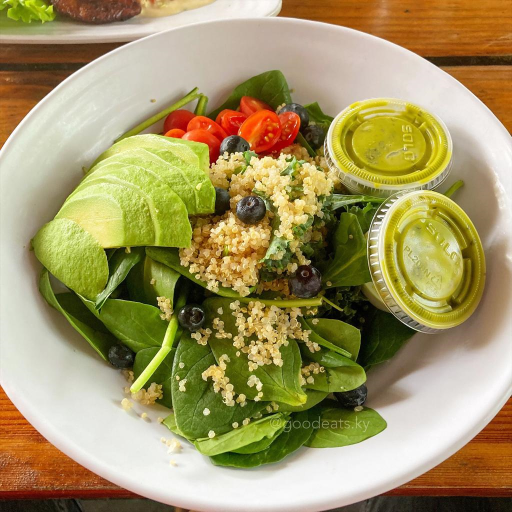 Recommended Salad: Pepper's Power Salad
Taste: A bed of spinach, kale, arugula, and quinoa topped with blueberries, tomatoes, avocado, and lime-cilantro dressing.
Atmosphere: Casual, alfresco atmosphere.
Cost: $12
Alternatives: Fi's Salad, Caesar Salad
Location Overview: Gino's Pizza serves New York-style pizza, sandwiches, salads and even some local favorites such as conch fritters. Their flavourful selection is bound to excite your taste buds.
Reccomended Salad: Fiesta Salad
Taste: Fresh iceberg lettuce, juicy tomato, red onion, corn, black beans, peppery jalapeno, crisp tortilla chips, ground beef, or grilled chicken with generous servings of cheddar and honey-lime vinaigrette dressing makes Fiesta truly a spectacular salad option for nutritional enthusiasts.
Atmosphere: Comfortable, friendly atmosphere (Take-out and a few table/chairs outside).
Cost: $8.75-Small, $13-Large
Alternatives: Caesar, Caprese, Greek, House, and Cobb salads.
Location Overview: The Kitchen is the sister restaurant to Fidel Murphy's Irish Pub (they're even next door to each other). While Fidel's is a casual pub, The Kitchen provides a "fancier", quieter option. It's a cozy, quaint, and unique steakhouse that offers a small but extremely well put together menu with delicious dishes all made from scratch.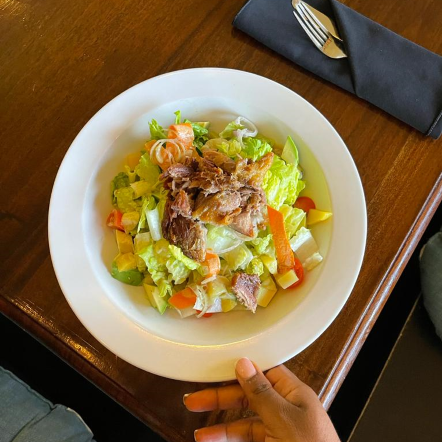 Recommended Salad: Crispy Duck Salad
Taste: A drool-worthy mix of sweet, creamy mango and nutritious avocado and greens served with a ginger, soy, and honey dressing make The Crispy Duck Salad a delectable pick for a light lunch.
Atmosphere: Great services in a relaxed atmosphere. Perfect for a laid-back date night.
Cost: $15.95
Alternatives: Thai Beef Salad, Mixed Greens, and Caesar Salad are a must-try.
Location Overview: Located at Caribbean Club, Luca offers a delectable, contemporary Italian menu. Right on the heart of Seven Mile Beach, Luca's outdoor patio offers impeccable views of the beach. Come for the food, stay for the sunsets!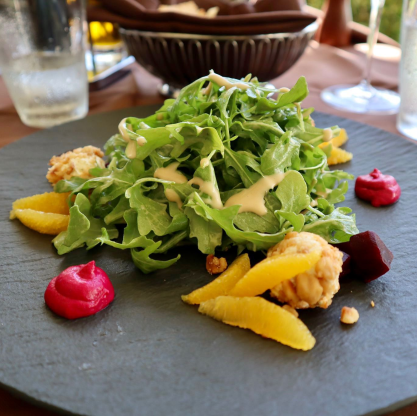 Recommended Salad: Arugula-Beet Salad
Taste: A bed of arugula, served with hazelnut crusted goat's cheese, orange segments and served with a raspberry vinaigrette. Simple, fresh, delicious!
Atmosphere: Beautiful, romantic atmosphere. Perfect for a fancy date night.
Cost: $11 (Lunch Menu)
Alternatives: Watercress Salad, Spinach Salad, Cobb Salad